In addition to the excerpt below, I really love the book because it makes me wonder would I date a person who is having a cancer. In other words, are you going to date a person that you know he or she is going to leave you?
In the end, we all did.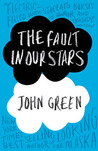 The Fault in Our Stars
by
John Green
My rating:
5 of 5 stars
After dwelling myself in life encounters and the book, I learn to embrace the roller coaster ride in my personhood. It's a good book to pick yourself up if you're going through a breakup like me.
"The world is not a wish-granting factory."
-Augustus Waters,
The Fault in our Stars
View all my reviews